Amitabh Bachchan Fan Break Security: Bollywood emperor Amitabh Bachchan has millions of fans. His fans are eager to get a glimpse of him. Many times the fans do anything to meet Big B. Something similar happened on Sunday as well. Actually, Amitabh Bachchan was meeting his fans on Sunday. Meanwhile, a young fan broke the barricade outside his bungalow Jalsa and ran to meet him. Big B shared pictures of the incident on his blog and wrote how the fan was elated after meeting the actor. He wrote that the fan ran to touch his feet and cried.
Amitabh shared pictures
Sharing the pictures on his Tumblr blog on Monday, Amitabh wrote, "And this little boy came from Indore, at the age of 4 he saw Don.. and was very impressed with it.. my dialogues, acting etc. .. with tears in his eyes longing to meet me .. surrendering himself at the feet of one whom I do not like .. but … console him, as he breaks the cordon and runs away .. console him Give .. He autographed the paintings made by me and gave a letter from his father to read .. These are the emotions of well wishers .. It makes me very happy.
Fan seen desperate to meet Amitabh in the picture
It can be seen in the pictures that a child comes to him breaking the barricade erected between the fan and the actor, while the bouncers also try to catch him. Young Fan falls at Amitabh's feet and sheds tears and gets him to sign a painting that he is carrying. In other pictures, Amitabh is seen consoling the child and talking to him.
News Reels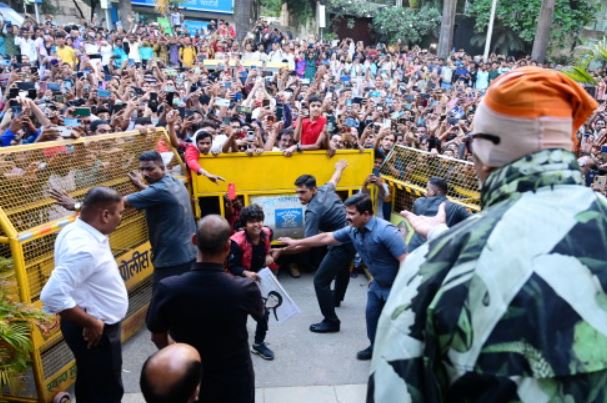 Big B started meeting fans weekly
Please tell that Amitabh Bachchan has recently resumed his weekly meeting with fans outside his Mumbai home. Every Sunday, he comes out of his house and greets the fans gathered there, even meeting some of them.
read this also:, This big miracle happened with Debina Bonnerjee after seeing the new born baby in NICU, the actress revealed