Kangana Ranaut On Women Dressing: Actress Kangana Ranaut, who expresses her opinion freely in Bollywood, has once again come into the limelight. This time Kangana Ranaut has given a befitting reply to social media trolls raising her voice on women's rights. Kangana believes that women should be very clear about their likes and dislikes. No one has the right to interfere in this.
Kangana was once trolled for her transparent bralette
'Manikarnika' actress Kangana Ranaut has given a special message to women around the world by sharing her old pictures on Instagram story. Along with this, he has also reprimanded social media trolls. The actress is seen wearing a transparent bralette in these photos, in which she is looking very glamorous. Sharing the photo, Kangana wrote the caption – "I want to emphasize the fact that what a woman wears and what she forgets to wear, it is completely her case… not yours." Kangana has also put laughing emojis on this post.
With another photo, the actress wrote, I think I have made my point. Now I can go to the office, bye.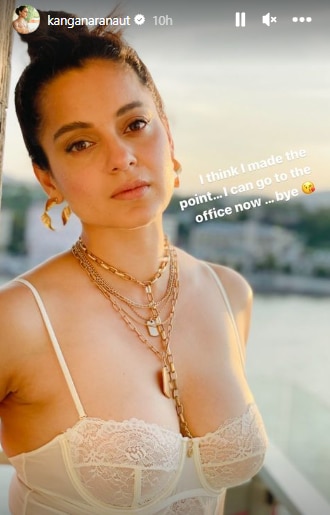 Kangana's previous film was a flop
Let us tell you that these pictures of Kangana Ranaut are from the party of the film 'Dhaakad'. Dhaakad director Rajneesh Ghai is seen with Kangana in a picture. The last time when Kangana posted these pictures, she was trolled by users on social media. That's why Kangana has now given her side while answering those negative comments. Kangana's film Dhaakad could not show anything special.
Kangana Ranaut will be seen in Emergence
However, these days Kangana Ranaut is busy shooting for the film Emergency. Apart from Kangana Ranaut in Emergency, Mahima Chaudhary, Anupam Kher and Shreyas Talpade will also be seen in important roles. The actress will be seen playing the role of Indira Gandhi in the film.
Also read-
'Mehndi Sukhai Hai Maine Phoonk Phoonk Ke…' You will also laugh after seeing these pictures of Ali Fazal and Richa Chadda