Kangana Ranaut on Twitter Restoration: Elon Musk has become the new owner of Twitter. With this, Bollywood actress Kangana Ranaut is hoping that her suspended Twitter account will be activated again. In a post on her Instagram story, the actress said how she is missing her "Twitter friends" who have been sharing memes about her comeback after the change in leadership of the social media platform.
Kangana's Twitter Account Was Permanently Suspended
Let us tell you that after posting several tweets in reaction to the West Bengal assembly election result, Kangana was permanently suspended from Twitter last year. A Twitter spokesperson said that his account was suspended for "repeated violations of the Twitter Rules, especially the Hateful Conduct Policy and the Abuse Policy."
Kangana was happy after Parag Agarwal was fired
At the same time, soon after taking over Twitter, Elon Musk has fired many top Twitter officials including Parag Agarwal. Kangana made Aggarwal's firing a personal victory and posted a story on Instagram, writing that she had predicted it long ago. Kangana wrote, "I always predict things that are yet to happen in the distant future… some people call my foresight an X-ray, some call it my curse and some call it witchcraft.. .How long have we been going to dismiss the genius of a woman like this…"
Future is not easy to predict
The actress further wrote, "Predicting the future is not easy, it requires a lot of observational skill and interpretation of human instinct. … Above all, it is your choice for crystal clear objectivity to study the subject." and resolves the dislike about which one wishes to predict."
Fans want to return to Twitter
Kangana also shared how she was featured on Twitter trend as her fans demanded her reinstatement. Kangana has been continuously claiming that her fans want her back on Twitter. The actress also shared screenshots of some of the memes doing the rounds on Twitter, demanding the reactivation of former US President Donald Trump and Kangana's Twitter accounts and "protecting freedom of expression".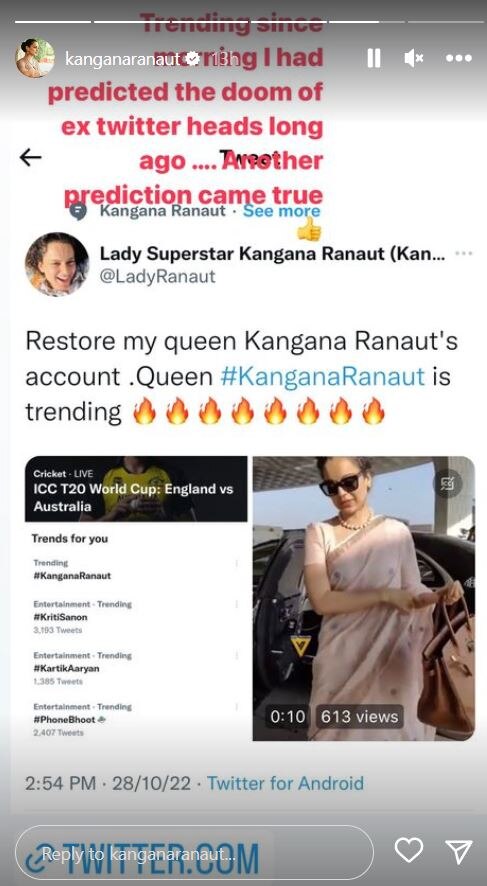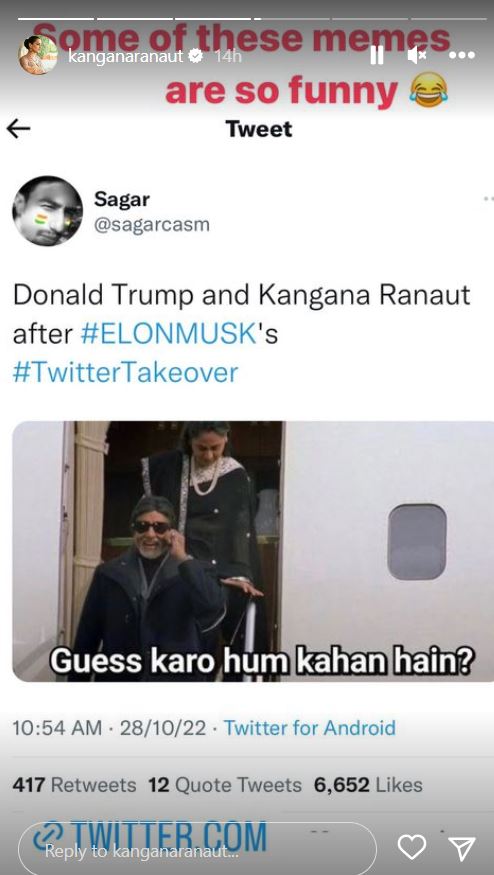 What does Elon Musk have to say?
At the same time, Musk has said that a committee will be formed to decide which accounts should be restored. He said, "Twitter will set up a content moderation council with a wide range of viewpoints. There will be no major content decision or account restoration before the convening of that council. ,
read this also:-Chhath Song: Khesari Lal Yadav was seen swinging 'Patna Ke Ghat Pe', celebrated Chhath Festival with Aarohi