Kangana Ranaut on Kantara: South director and actor Rishab Shetty's Kannada film 'Kantara' created a new record of success. The film has performed tremendously worldwide, while in the Hindi version too, the film is breaking the box office collection records. In the midst of all this, Bollywood actress Kangana Ranaut, who is always in the headlines for her statements, is also not tired of praising Kantara. The actress even said that Kantara should be India's entry at the Oscars next year. Kangana said that India needs the right representative and Kantara is a film that the world must watch.
The whole world must experience Kantara movie
On Friday, Kangana wrote on Instagram Stories, "I think Kantara should be India's entry at the Oscars next year, I know the year is not over yet and better films can come, but more than the Oscars, India should be considered a global Right representation at level is needed. This land of mysteries and mystics which one cannot understand can only be embraced…India is like a miracle, if you try and understand it you will only be disappointed, But if you surrender to the miracle you too can become one…. Kantara is an experiential reality that the world must experience."
Kangana said that she is trembling after seeing Kantara
Let me tell you that Kangana watched the film on Thursday and then shared a video and said, "I have just come out with my family after seeing Kantara and still shivering. What an explosive experience. Rishabh Shetty, you Salute. Writing, directing, acting, action splendid, incredible!"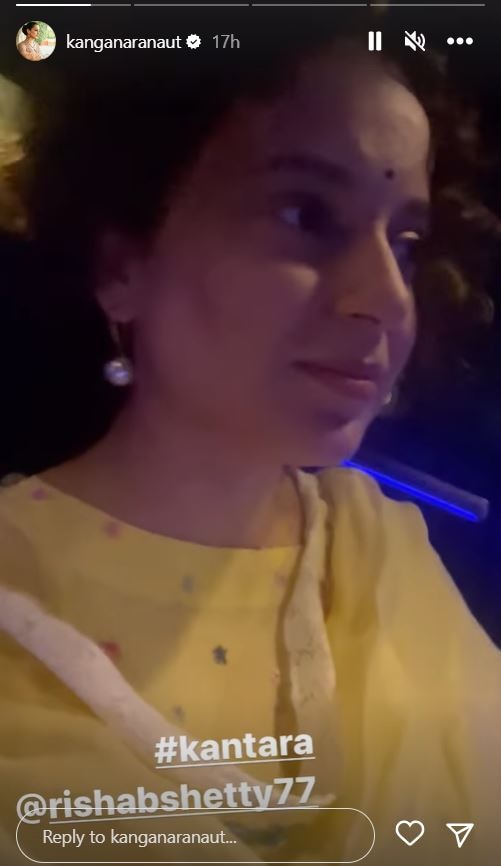 Kantara was released on 30 September
Kantara also stars Achyuta Kumar, Pramod Shetty and Saptami Gowda. The film was released in theaters on 30 September but after a great response, it was also released two weeks later in Telugu, Hindi, Tamil and Malayalam.
read this also:-Dhanshree Verma shared the picture as soon as she reached Australia, after reading the caption, the fans said – 'You are making fun of Urvashi Rautela'